Part Number: 30032 Fish Green
Individual filters and filter sets (no cube),These filters sets contain individual filters.
Type
Size
Part Number
AOI
Price
Single Band Exciter
φ25 x 5.0 mm
30032-BP490nm
0°
$-
Single Band Emitter
φ25 x 3.5 mm
30032-BP530nm
0°
$-
Single Dichroic Mirror
36 x 25.7 x 1.05mm
30032-DM505nm
45°
$-
Total: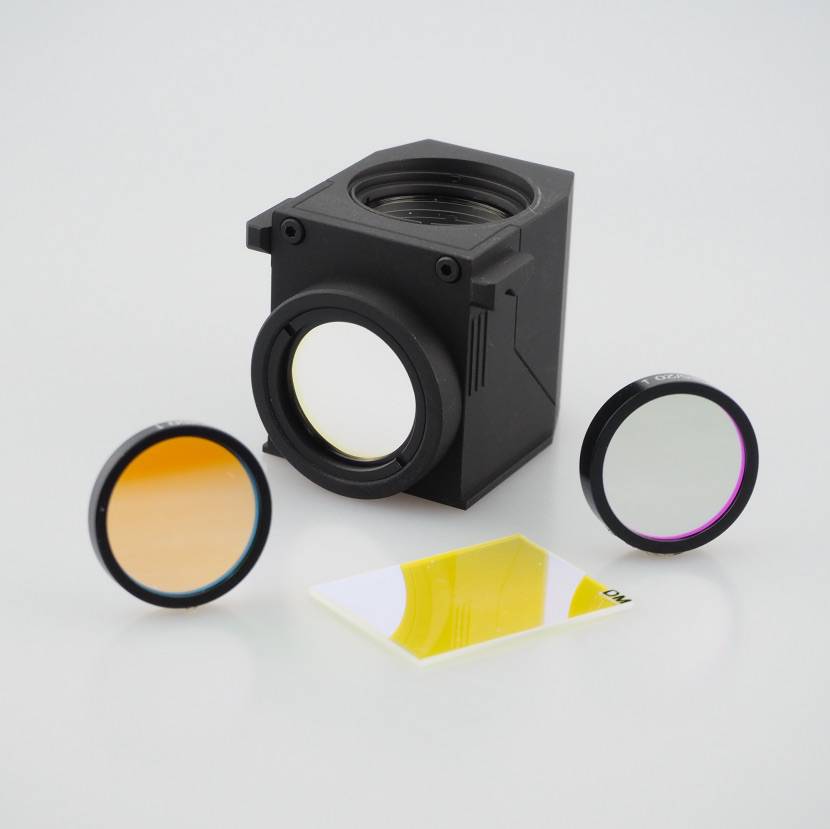 This is a narrow single band filter set priority for Fish Green that provided a high-performance bandpass emission green excitation filter combination. Ideal for use with SpectrumGreen, FITC, Alexa Fluor 488, Fish Green probe.
Optical Specifications
| | |
| --- | --- |
| Filter Type | 30032 Single band filter set Fish Green |
| Coating Type | Hard Coating |
| Angle of Incidence | 0°±5° |
| Exciter | 490nm |
| Transmission | >85% |
| Central Blocking | OD>5 |
| Cutoff Blocking | OD>3 |
| Blocking Band | 200~900nm |
| Angle of Incidence | 0°±5° |
| Emitter | 530nm |
| Transmission | >85% |
| Central Blocking | OD>5 |
| Cutoff Blocking | OD>3 |
| Blocking Band | 300~1100nm |
| Angle of Incidence | 45°±1° |
| Edge Wavelength | 505nm |
| Reflection | R>98% |
| Transmission | T>85% |
General Filter Specifications
| | |
| --- | --- |
| Diameter Dimensions | 25 mm |
| Diameter Tolerance (mounted) | ± 0.1 mm |
| EX Filter Thickness (mounted) | 5.0 mm |
| EM Filter Thickness (mounted) | 3.5 mm |
| Filter Thickness Tolerance (mounted) | ± 0.1 mm |
| Clear Aperture | ≥ 21 mm |
| DM Square Dimensions | 36 x 25.7 x 1.05mm |
| DM Thickness(unmounted) | 1.05 mm |
| Thickness Tolerance (unmounted) | ± 0.1 mm |
| Flatness | λ/4 |
| Parallelism | 30″ |
| Scratch-Dig | 60-40 |
| Substrates | Fused Silica, B270 |
| Compatible Microscopes | Most common Nikon, Olympus, Zeiss and Leica microscopes |